Description
The One and Only Diffuser for Apple HomeKit

The FLOWERBUD diffuser is another member of your smart home family. Using ultrasound
it emits a fine cooling mist that humidifies the entire room. Freshens and humidifies the air
and scents the whole room yet looks as if it came from a flower garden. With selection
of 16 million colours, it completes the atmosphere of any moment. You can select your favourite
LED lighting using VOCOlinc app, as well as the intensity and turn ON / OFF the whole device.
VOCOlinc FlowerBud diffuser and humidifier is another highlight of your smart home,
yoga room or smaller office.
VOICE CONTROL
Works with Apple HomeKit, Amazon Alexa and the Google Assistant. Enjoy a hands-free
and responsive connected home control experience right out of the box. Through simply using
vocal commands, your choice of voice assistant will switch on/off, adjust mist level,
light colors and brightness.
A CLEAN AND FRESH ATMOSPHERE
As this is a diffuser that uses a combination of 100% essentials oils and water,
the FlowerBud, with its 300ml capacity tank, is able to fill any small room
with your choice of aromas within minutes, giving your home a fresh
new atmosphere to clean away the smell of last night's meal, or perhaps
the unwelcome smell of pets.
Discover the Unique Features of the FLOWERBUD Diffuser

Ultrasound creates a pleasant cooling mist
Multicolour LED Lighting - up to 16 million colours from cool to warm whites
Voice control (Siri, Alexa, Google Assistant) or
VOCOlinc (featuring such a mist settings and intensity, lightning effects, etc.)
Automatic shutdown when the tank is empty
300ml water tank capacity
Add your favourite aroma oil to create a fragrant atmosphere
Works w/ HomeKit, Alexa and Google Assistant
2.4GHz Wi-Fi
BPA-free
Perfect for rooms up to 30 m2
ON / OFF timer
Packaging Contains Plug C (Euro) and Plug G (British)
Get the Most Out of VOCOlinc App (iOS, Android) Functions!
Using the VOCOlinc app, you get even greater control over the FlowerBud,
with 5 levels of mist control, special color effects for the Mood Light,
and much more, including scheduling, allowing you to come home
to a pleasant aroma after work, and remote access that allows you
to control the FlowerBud from anywhere in the world.
Control and monitor all your VOCOlinc accessories
Choose from 16 million colours and select your favorite
Set the mist intensity and control humidity
Set lightning effects (breathing, flashing, smoothing)
Set timer to automatically turn on/off, create schedules
Create scenes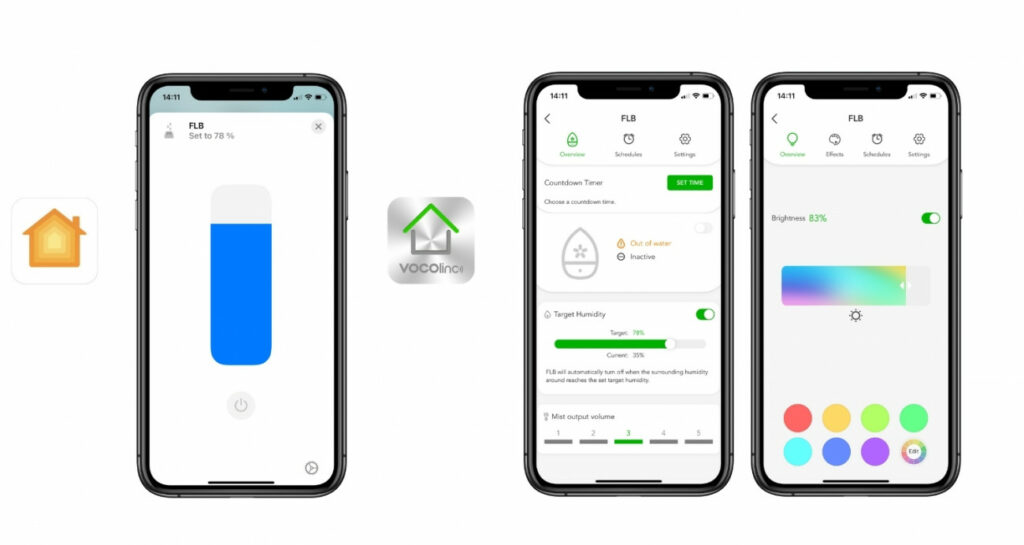 Control FlowerBud Directly in Apple HomeKit
Control devices directly in the Home app. Apple HomeKit fans appreciate the FlowerBud
connection options to the Home app along with other smart products certified with
"Works with Apple HomeKit" label. You can control them together by creating scenes.
Get greeted by "Arriving Home" scene, where you set up switching on diffusers, lights and LED strips!
Alexa and Google Assistant's native applications offer a similar functionality.
REQUIREMENTS / iOS
To control this HomeKit-enabled accessory, the latest version of iOS or iPadOS
is highly recommended. Controlling this HomeKit-enabled accessory automatically
and away from home requires a HomePod, an iPad or an Apple TV
with the latest tvOS as a home hub
REQUIREMENTS / Android
AndroidOS 4.3 or later